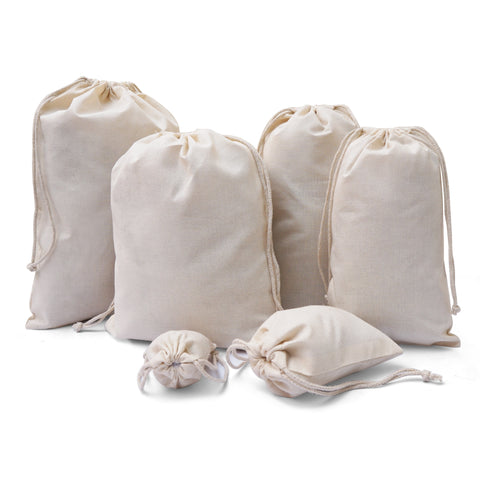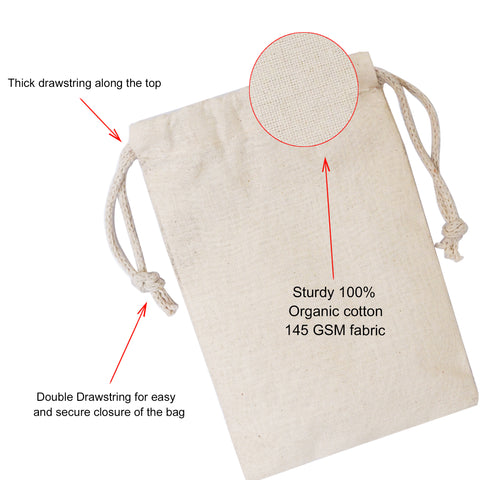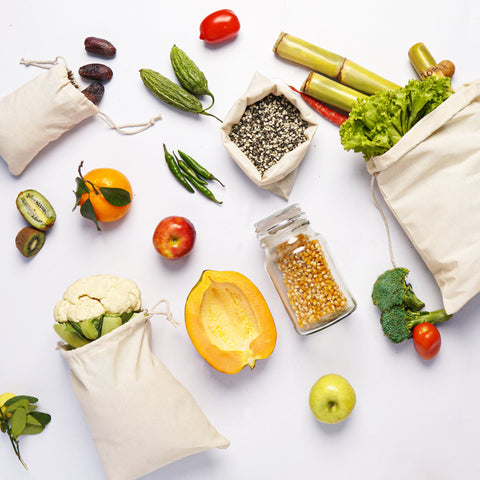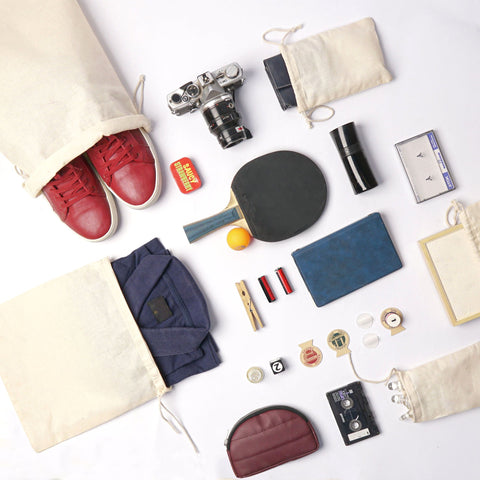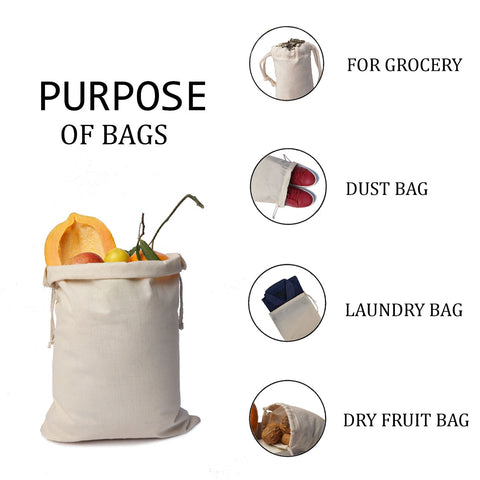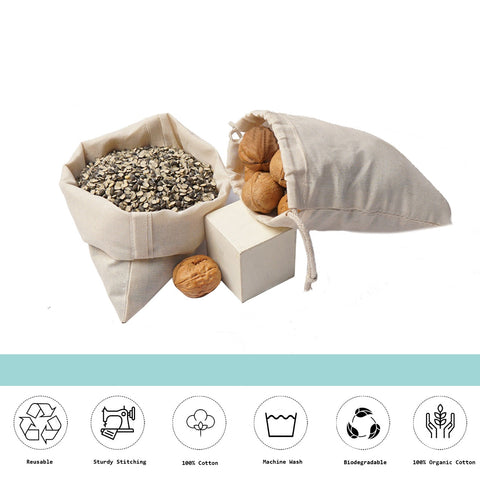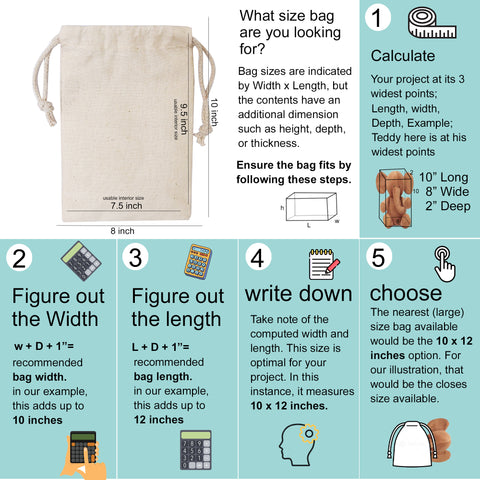 Biglotbags
100% Cotton Double Drawstrings Premium Quality Muslin Bags - Pack of 25
$13.99
$16.50
you save $2.51
These Cotton bags are a perfect accessory for your everyday use and your special days! We want your special event to look more compelling with our cotton bags.

Reusable Cotton Bags/Muslin Bags - 100% Cotton Double Drawstrings Premium Quality Eco-Friendly Reusable Cotton Bags

Sealing: Double Drawstring
Color: Natural
Fabric: 100% Cotton
Pack of 25
🍀 

Premium Quality Material:
Crafted from 100% cotton with a high GSM of 145, our bags are thicker and less see-through than other cheap alternatives. The high thread count of 60X60 and thread size of 20X20 give our bags a luxuriously soft texture, ensuring both durability and a polished, refined look. Sturdy yet lightweight cotton fabric
🍀 Breathability and Freshness: Our Muslin bags are not just durable and fine but also promote free air circulation. This breathability keeps your stored items fresh and safe
🍀 Versatile and Eco-friendly:
Perfect for those seeking a durable, breathable, and reusable storage solution with a luxurious feel and look. Ideal for storing food, jewelry, spices, and other delicate items, these bags are also perfect for eco-friendly, luxurious packaging of goods and gifts and crafting. You can also store shoes, books, bottles of all kinds, office supplies etc. You can store and carry your stuff with you for traveling. Can also be used as a cosmetics bag and golf bag
🍀 Convenient Double Drawstring Design:
Each Muslin bag features a double drawstring closure, ensuring your items stay securely tucked inside. This reliable design offers ease of use, while adding an extra layer of security for your stored items. No more worries about items falling out or getting lost!
🍀 Lifetime Quality Assurance: We stand behind the quality of our Muslin bags, offering a warranty/guarantee for your peace of mind. If you're not satisfied with the quality, we're committed to making it right, either by replacing the bags or offering a full refund
🍀

 

LIFE TIME WARRANTY
- Love them or we'll buy them back from you, no questions asked!
About this Item: 
Easy to Hold: The durable drawstrings make it easy to hold these Cotton bags.

Durable & Soft: Cotton drawstrings bags are made of high quality and soft natural cotton
Multiple Sizes: Huge range of different sizes to meet your needs
Wide Application: Cotton drawstrings bags have a wide application in our daily life, they can be used for grocery or storing different items like vegetables, etc, or you can use these to decorate your special events like weddings & birthdays. These Muslin bags can also be used for DIY projects.
Washable: These cotton bags are washable just like your clothes! 
Eco Friendly: By using eco-friendly products, each person is contributing to the safety and preservation of the resources provided by the planet, such as metals, plastics, and even water. If more people use eco-friendly products like our cotton bags, the cost of other products will go down, and it would benefit all inhabitants, humans, and animals. Eco-friendly products are both good for the environment and safer for consumers! They are the smart choice for families everywhere.

Lifetime Warranty: 
If you are not happy with our cotton bags. return it for a full refund. If you do not love them, we will buy them from you, no questions asked.
Have these Muslin Bags and make your product a natural look. Click '
Add to Cart
' right now and order yours today!
See other items in our store here: 
https://biglotbags.com/collections/all
Thank you!